Welcome to the Port Kitchen & Bar.
Located on Main Street Portrush with fabulous views overlooking the Atlantic Hotel, and serving the finest local produce, the Port Kitchen & Bar is the ideal location for your next family meal, catch up with friends or a celebratory dinner.
With the return of old favourites and a few exciting new dishes- we are excited to launch our new menu.
Autumn opening times:
Monday – 16.00 to 20.30
Tuesday – 16.00 to 20.30
Wednesday – 16.00 to 20.30
Thursday – 16.00 to 20.30
Friday – 16.00 to 21.00
Saturday – 14.00 to 21.00
Sunday – 14.00 to 20.30
Food served daily, for reservations please contact: 02870826100
To view menu click here.
Kids Menu click here
For private dine and event requirements click here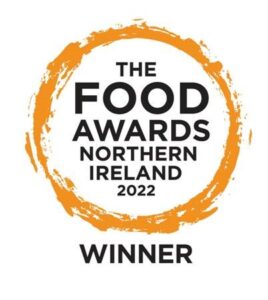 We are delighted to announce that we have been awarded 2022 Hotel Restaurant of the Year at the Northern Ireland Hospitality Food Awards.
Read about it here.
Book your table today and try our award winning food- 02870 826100.