This beautiful seaside town situated on Northern Ireland's wild Atlantic coast dates back to around the 12th or 13th century and records show that the area was occupied as far back as the late Mesolithic period.
From around the middle of the 1600s, Portrush became, like many other coastal towns and villages a fishing town and it wasn't until the late 1800s that tourism put Portrush firmly on the map. It is now one of the most popular resorts in Northern Ireland for tourists who wish to soak up the history of the place and enjoy some of the many attractions that Portrush has to offer.
---
Unless you've been in hibernation for the past few years you can't have failed to notice what a phenomenon the TV series Game of Thrones has become. Northern Ireland is one of the locations used for filming with the region's historic castles and stunningly beautiful scenery being used as a backdrop for the fantasy series. We can't guarantee that you'll encounter any dragons or White walkers but the beech tree-lined road known as the Dark Hedges of Armoy at Stanocum, and called the Kings Road in the programme, is sure to fire your imagination. The magnificent Towers of the Stangford Castle Ward Estate is the location otherwise known as Winterfell.
---
Places to Visit.
Elsewhere, Portrush East Strand beach is a long, sandy stretch popular with surfers and dog walkers and if surfing's your thing the Portrush Surf School has knowledgeable, expert tutors to show you the ropes.
For those who prefer a more sedate yet challenging experience, the Royal Portrush Golf Club on Dunluce Road offers an 18-hole Championship course for the discerning golfer.
Families will love to spend a day or two at Barry's Amusement Park or Waterworld whilst wildlife watchers will adore a Causeway Sea Tour or Fishing Charter for a relaxing day's seal and bird watching. To truly appreciate the beauty of Northern Ireland's dramatic coastline you have to visit the Giant's Causeway and the Carrick-a-Rede Rope Bridge and get a sense of the legends and history of the area.
Events
Northern Ireland is not lacking in sporting venues and events and one of the most dramatic, attracting thousands of spectators annually, is the NW200 3-day motorcycle racing event held in May every year.
The annual Portrush Raft Race is a little more sedate but no less exciting and entertaining to watch. This family fun weekend is held in aid of the RNLI and will be on the last weekend of May in 2018.
RNLI on board for 2018 Sponsors.
The Portrush Atlantic Hotel and RNLI are delighted to announce their partnership for 2018 which promises to include a fantastic line up of fundraising events throughout the year.
Natasha Garrott, General Manager from Portrush Atlantic commented; 'We are excited to be on board with the RNLI for 2018 and look forward to working with the charity and their team of volunteers throughout the year to deliver some fabulous events'
Keith Gilmore, Lifeboat Operations Manager added; The fundraising team, the volunteer crew, and the station management of Portrush Lifeboat Station are delighted to be forming a partnership with the Portrush Atlantic Hotel for 2018. We eagerly anticipate that with the help of the Portrush Atlantic Hotel there will be many fun events which will generate much needed funds for the work of saving lives at sea by the RNLI.'
Our full calendar of events will be coming soon! To ensure you don't miss out, make sure to like and follow us on facebook @PortrushAtlantic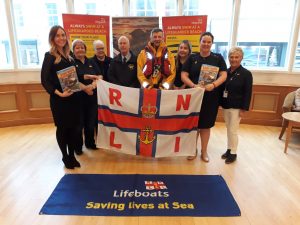 Pictured are Amy Maguire, Sales Manager, Portrush Atlantic Hotel, Keith Gilmore, Lifeboat Operations Manager, Portrush; Tim Nelson Volunteer Crew member;Dorothy Weeks, Lifeboat Shop Supervisor; Sarah Edmundson, Fundraising Committee, Paula Clyde, Fundraising treasurer, Natasha Garrott, General Manager Portrush Atlantic Hotel & Val McDonald, RNLI Education
---
Food Awards NI: Hotel Restaurant of the Year 2018.
Portrush Atlantic Hotel are delighted to announce that we have been awarded Hotel Restaurant of the Year at this years Food Awards NI. The award ceremony took place at the Crown Plaza in Belfast on Monday 4th June.
Against some tough and impressive competition we were delighted to take home the prize.
---
Food and Drink.
Portrush is blessed with many excellent bars and restaurants offering everything from fine cuisine to more relaxed casual dining.  Portrush attracts many weekenders and for a great craic and lots of fun the beer festival which is held in the Town Hall in October promises artisan beers, great food and good music over a 3 day weekend.
Whatever you plan to do on your visit to Portrush you can be sure of a warm welcome in the many restaurants, cafés, bars and takeaway establishments that this delightful town has to offer.
Our lovely seaside town offers so many attractions and activities for your Northern Ireland holiday. See famous local sights such as the Giant's Causeway and Carrick-a- Rede rope bridge. Both provide amazing views of the dramatic cliffs and coastline, and offer a bit of the area's history, folk tales and legends. There is lots to do and see in Portrush and out locations puts us right in the center of all of it!
HBO's epic series Game of Thrones has filmed a lot of their scenes at The Dark Hedges- a spectacular sight and one of the most photographed phenomena in Northern Ireland is just a short drive away from the Portrush Atlantic Hotel.
It's no secret that the Irish enjoy a round of golf now and again, so be sure to bring along your clubs and take a tour of our local golf course gems. Speaking of tours, one of the finest available is of the Old Bushmills Distillery where one of Ireland's finest whiskeys is produced. See all this and more when you stay with us.
---
Port Kitchen & Bar Burgers.
After a long day sightseeing and taking in the wonders of the Causeway Coast, a visit to the Port Kitchen & Bar is a must. Try our deliciously popular North Coast burgers- they are the talk of the town.
---
Portrush Atlantic Chess Festival.
Portrush Atlantic Hotel are delighted to host this years NI Chess Championships on Friday 12th and Saturday 13th October 2018.
Atlantic Simul
7:30pm to 9:30pm on Friday 12 October 2018. Tournament organiser/arbiter Brendan Jamison will deliver a simul to under 1400 rated players + parents of junior players
Free Entry
Atlantic Rapidplay Championship
10:30am to 6:30pm on Saturday 13 October 2018. Two sections, senior and intermediate.
Entry fees are £10 for adults and £5 for under 18s
Atlantic Blitz Championship
8pm to 10pm on Saturday 13 October 2018. One open section. Approximately 10-12 rounds, depending on entry numbers.
Free Entry.
For Accommodation enquiries please contact our front office quoting "ChessNI": 02870826100.
For further info:
http://www.chessni.co.uk/atlantic2018.html
Places to visit
Causeway Foodie Tours.
The Portrush Atlantic Hotel has teamed up with Causeway Foodie Tours to offer a full causeway experience.
Enjoy a nights Bed and Breakfast with us at Portrush Atlantic Hotel then set off on an enjoyable, interesting and exciting foodie adventure.
Whether you are a foodie or not- this package will give you exclusive tasting sessions and behind the scenes access that aren't just for the culinary obsessives. With each trip offering insight to a small number of hand-picked artisan producers and chefs, introducing you to the unique food experiences of the Causeway Coast.
Why not finish the day off with a delicious fresh cooked meal in our Port Kitchen & Bar, with an extensive menu of beautiful local produce.
To see our foodie tour packages: Click Here