This beautiful seaside town situated on Northern Ireland's wild Atlantic coast dates back to around the 12th or 13th century and records show that the area was occupied as far back as the late Mesolithic period.
From around the middle of the 1600s, Portrush became, like many other coastal towns and villages a fishing town and it wasn't until the late 1800s that tourism put Portrush firmly on the map. It is now one of the most popular resorts in Northern Ireland for tourists who wish to soak up the history of the place and enjoy some of the many attractions that Portrush has to offer.
---
Unless you've been in hibernation for the past few years you can't have failed to notice what a phenomenon the TV series Game of Thrones has become. Northern Ireland is one of the locations used for filming with the region's historic castles and stunningly beautiful scenery being used as a backdrop for the fantasy series. We can't guarantee that you'll encounter any dragons or White walkers but the beech tree-lined road known as the Dark Hedges of Armoy at Stanocum, and called the Kings Road in the programme, is sure to fire your imagination. The magnificent Towers of the Stangford Castle Ward Estate is the location otherwise known as Winterfell.
---
Places to Visit.
Elsewhere, Portrush East Strand beach is a long, sandy stretch popular with surfers and dog walkers and if surfing's your thing the Portrush Surf School has knowledgeable, expert tutors to show you the ropes.
For those who prefer a more sedate yet challenging experience, the Royal Portrush Golf Club on Dunluce Road offers an 18-hole Championship course for the discerning golfer.
Families will love to spend a day or two at Barry's Amusement Park or Waterworld whilst wildlife watchers will adore a Causeway Sea Tour or Fishing Charter for a relaxing day's seal and bird watching. To truly appreciate the beauty of Northern Ireland's dramatic coastline you have to visit the Giant's Causeway and the Carrick-a-Rede Rope Bridge and get a sense of the legends and history of the area.
Events
Northern Ireland is not lacking in sporting venues and events and one of the most dramatic, attracting thousands of spectators annually, is the NW200 3-day motorcycle racing event held in May every year.
The annual Portrush Raft Race is a little more sedate but no less exciting and entertaining to watch. This family fun weekend is held in aid of the RNLI and will be on the last weekend of May in 2018.
---
Food Awards NI: Hotel Restaurant of the Year 2018.
Portrush Atlantic Hotel are delighted to announce that we have been awarded Hotel Restaurant of the Y
ear at this years Food Awards NI. The award ceremony took place at the Crown Plaza in Belfast on Monday 4th June.
Against some tough and impressive competition we were delighted to take home the prize.
Official Press Release.
News Release
5 June 2018
Top food suppliers, servers and manufacturers in Northern Ireland are awarded
The winners of the third annual Food Awards Northern Ireland 2018 have been revealed following the elegant ceremony that attracted over 350 guests at the Crowne Plaza Hotel in Belfast on Monday the 4th of June.
The Food Awards Northern Ireland recognised the success of local professionals and establishments, such as top restaurants, gastro pubs, producers and chefs amongst others that do their bests to provide us with fresh dishes and unique flavours.
The winners are a true reflection of high standard and customer service as they are chosen by members of the general public.
The black- tie event was hosted by broadcaster, Pamela Ballantine. She welcomed on stage talented individuals and businesses, acknowledged for constantly delivering high-quality food products, leaving their customers with the best of impressions.
Several of the awards were split into local regions to ensure the diverse ranges of businesses from across Northern Ireland are recognised for their exceptional work.
Irfan Younis, CEO of Creative Oceanic, said: "We are very delighted to have such great finalists and winners representing the Northern Irish food industry. The awards provided a platform to thank those that maintain the professional standard of the industry in Northern Ireland, whose work often remain unnoticed.
"These were the third Food Awards Northern Ireland and we will continue pushing the businesses and individuals forward to showcase themselves and get the recognition they deserve for making Northern Ireland a well-known country for its tastes.
"Congratulations to all finalists and winners for their achievements!"
In addition, the awards supported the Make-A-Wish Foundation, a charity that grants magical wishes to children and young people fighting life-threatening conditions.
Hotel Restaurant of the Year : Portrush Atlantic Hotel (Portrush)
---
Food and Drink at Port Kitchen & Bar Winter Menu.
Join us this Winter for our new delicious new menu.
We've got a fabulous new winter menu and winter opening times at Portrush Atlantic plus check out our Two's Company Promotion😋🤗Monday: closed.Tuesday- Friday: 5pm- 8.30pmSat: 12pm -2.30pm / 5pm – 9pmSun: 12pm- 2.30pm/ 5pm- 8.30pmCall us on 02870826100 to book a table!#portrushatlantic #winter #dining #locallysourced #twoscompany

Posted by Portrush Atlantic Hotel on Wednesday, 10 October 2018
---
Port Kitchen & Bar Burgers.
After a long day sightseeing and taking in the wonders of the Causeway Coast, a visit to the Port Kitchen & Bar is a must. Try our deliciously popular North Coast burgers- they are the talk of the town.
INTRODUCING NORTH COAST BURGERS.
Worlds Best: Black pudding, fried egg, beef and mustard sausage, tomato.
Main Street 73: Pulled beef, tobacco onions and pepper sauce.
In the Pink: Chick pea, feta, spinach and spring onion.
The Tower: Irish cheddar, french fried onions, homemade lacada BBQ sauce.
BaaBaa Burger: Lamb burger, charred red onion, rocket leaves and mint yogurt.
Hail Caesar: Crispy chicken, caesar dresses leaves, bacon.
Shipwrecked: Lacada beer battered fish fillet, tartar sauce.
---
Port Kitchen & Bar Seafood Specials.
We've got some delicious seafood specials on the menu throughout the summer
Portrush lobster sandwich with local brown crab 🦀 Salt baked mackerel chowder

RNLI on board for 2018 Sponsors.
The Portrush Atlantic Hotel and RNLI are delighted to announce their partnership for 2018 which promises to include a fantastic line up of fundraising events throughout the year.
Natasha Garrott, General Manager from Portrush Atlantic commented; 'We are excited to be on board with the RNLI for 2018 and look forward to working with the charity and their team of volunteers throughout the year to deliver some fabulous events'
Keith Gilmore, Lifeboat Operations Manager added; The fundraising team, the volunteer crew, and the station management of Portrush Lifeboat Station are delighted to be forming a partnership with the Portrush Atlantic Hotel for 2018. We eagerly anticipate that with the help of the Portrush Atlantic Hotel there will be many fun events which will generate much needed funds for the work of saving lives at sea by the RNLI.'
Contact 02870826100 for further details. @PortrushAtlantic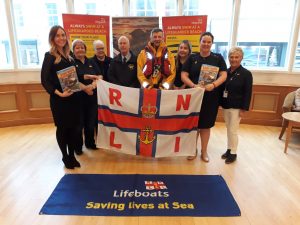 Pictured are Amy Maguire, Sales Manager, Portrush Atlantic Hotel, Keith Gilmore, Lifeboat Operations Manager, Portrush; Tim Nelson Volunteer Crew member;Dorothy Weeks, Lifeboat Shop Supervisor; Sarah Edmundson, Fundraising Committee, Paula Clyde, Fundraising treasurer, Natasha Garrott, General Manager Portrush Atlantic Hotel & Val McDonald, RNLI Education
To find out more about all that RNLI do: click here: RNLI